ACCESSORIES AND COMPONENTS FOR SOLAR SHADING SYSTEMS
For over 35 years, we have been designing and manufacturing systems and components for extensible folding arms awnings, cassette awnings, roll down awnings, canopies and several shading systems such as folding cloth pergolas and bioclimatic pergolas with louvred roof.
BAT S.p.A.
an italian story since 1983
BAT S.p.A. has its headquarter in Noventa di Piave where all products are designed, engineered and manufactured. The constant commitment to research and development enables the company to offer the market innovative products, new and state-of-the-art solutions to best meet customer needs in 72 different countries. This mindsset has allowed in recent years continuous growth at international level. There are numerous novelties and projects that the company has undertaken to improve the offer and service offered to the market.
"The peculiarities of BAT – declares Amorino Barbieri, Group President and Founder – is certainly to propose to the market a broad and cross-product offering that is strong in the market capillary presence. Positive performance confirms the effectiveness of the strategy we have implemented over the years; the results that we want to confirm in the coming years, continuing to invest and engage in the opening of strategic subsidiaries, especially in those areas of great importance to our industry, where we are still not well represented. On the one hand, the core business is focused on all types of sunshades, which have made BAT one of the leading international players in the industry – continues Barbieri – on the other hand we are consolidating our outdoor system offer at 360 °, offering pergolas and sail shading systems – suitable both in private contexts and accommodation facilities – with a technological know-how and a particularly sophisticated design content."

MISSION E VISION
Design and build quality shading systems and accessories, bringing quality and Made in Italy design to every corner of the planet.
BAT Group since 1983 is a well-established, ever-evolving industrial reality. Leading in the design and manufacturing of solar protection systems and components, it consists of 9 companies operating essentially in two Strategic Business Units that are identified with BAT brands (for companies that produce and distribute solar protection systems and components) and with the KE brand (for companies that produce the finished product).
For some years the BAT Group has begun an autonomous internationalization process, creating local units through startups and acquisitions. To date, 5 companies are identified with BAT brand and their headquarters in located in Noventa di Piave, Venice: BAT Iberica (Spain), BAT France (France), BAT USA (United States) and BAT Scandinavia (Sweden). KE brand names include 4 companies: KE (Noventa di Piave, Italy), KE France (France), Gennius France (France), KE USA (United States).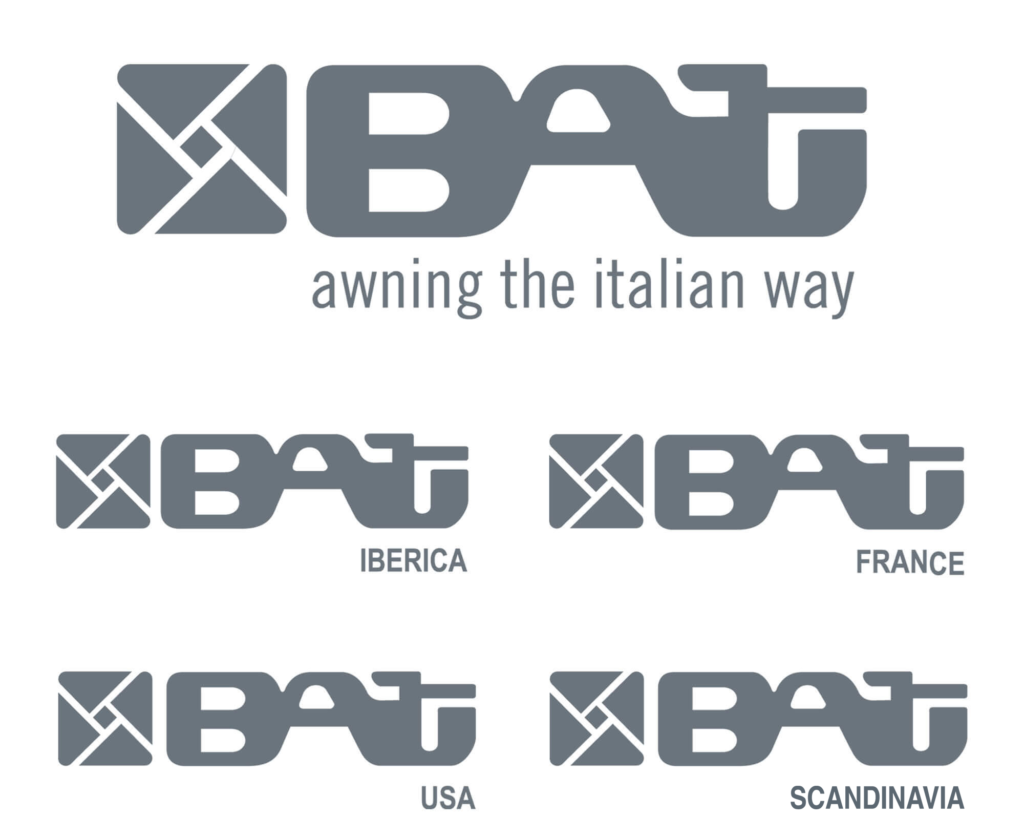 Branches of BAT in the world
Browse the correct catalogue
The products, made in Italy by BAT, are distributed in the foreign branches in different way.
Before visiting the Products section of this website, we suggest you to choose the correct catalogue for the country of your interest.